The Board of Supervisors constantly hears concern expressed for the economic health of Plumas County and our communities. Believe me, this is one of the top concerns of the Supervisors as well. We would love to have large companies locate here and bring the jobs we so badly need. However, in this economy, this is most likely not going to happen anytime soon. That got me thinking about what we can do, which brings me to looking at the businesses that are already here and in most cases struggling to keep their doors open.
Around Christmas each year you will see encouragement to patronize our local businesses in the "Buy Local" campaign which asks us to spend $100 in local shopping over the holidays. You have all participated and have given our businesses a boost they so badly needed to get through our long winters. But, what about the rest of the year? Think about the difference it would make if we all spent $100 locally every month or even every other month. I am thinking things like new tires, auto repair, clothing, and professional services.
Looking at our local businesses and their needs started me thinking about our Chambers of Commerce. Chambers of Commerce have been in existence since the early 1900's. Their functions and purpose have changed over the years with changes in business and technology as they adjusted to new and different demands. Our Lake Almanor Chamber of Commerce has been in existence since around 1939. That is a long history of service to our businesses and community.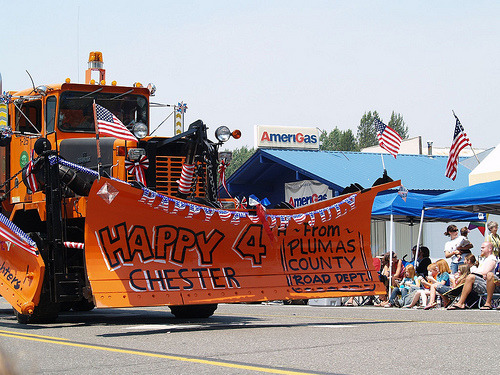 It is my observation that all of the Chambers located in Plumas County are struggling with lack of staffing, lack of members and lack of money to do the things they would like to do to promote our area. I've been thinking about the role the Chamber has played over the years. Some examples: they field events, such as the 4th of July parade & fireworks, that bring visitors to our area, their mixers give business owners and the public an opportunity to meet and share ideas and concerns, they provide a listing of local business members by category so if you are looking for lodging, a service or the like it is easy to access the appropriate information. They are usually the first place a person planning a visit or looking to move here goes to obtain information.
The Lake Almanor Chamber of Commerce currently has about 210 members out of approximately 400 businesses in the area. In recent years there have been efforts on the part of some members to break away from the Chamber and start other merchant groups/associations. While I can understand this movement, I can't help but think there is such power in numbers and we have such a small population to draw from, it seems banding together, addressing any services that they find lacking and effecting change within the Chamber organization would be a better, more effective method to address those needs.
Many of us tend to think of the Chamber as purely providing service to business owners however, over the years I have seen the positive impact an active, healthy chamber brings to the residents of the community at large. This brings me to thinking about how we, as a community, can help the Chamber prosper thereby helping all of us prosper. First thing that comes to mind is we could volunteer to help at events. Recently some of the events the Chamber sponsored have been cancelled or are no longer Chamber events due to lack of volunteers. Not only would we be helping the Chamber but the events are fun and a chance to meet our neighbors.
Secondly, the Chamber has numerous categories for membership. If you own a business and are not currently a member please consider joining. They also welcome Nonrofit organizations as members. For those of us who benefit from having healthy, successful businesses to provide for our needs, there are ways to contribute as a "Friend of the Chamber". Friends of the Chamber are described as "individuals and families who want to connect to, invest in and support the community organization that is working to enhance the quality of life in the Basin". Sounds like that would fit most of us. Let's do what we can to support our businesses and an organization that has been serving us for more than 70 years!